Hoarseness can signify actual changes to your vocal cords, the things that guard the entrance to your trachea. It's especially true in those who shout often or speak loudly. When you constantly strain your voice, or when you smoke, you irritate the vocal cords and form scars on them.
These overgrowths can develop into polyps, which usually are not removable by surgery. This is where the ounce of prevention is worth far more than the pound of cure. If you have a chronically raspy voice, it may be worth asking your pediatrician about whether or not you need to visit an otolaryngologist, or ear, nose, and throat doctor; it may also be a sign of reflux.
And by all means, stay away from cigarette smoke (and all other kinds of inhaled smoke). One homemade remedy: Pineapples--fresh, canned, or in juice--can help reduce raspiness, probably due to an enzyme they contain, bromelain, which can help soothe vocal cords.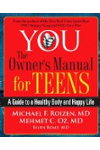 Continue Learning about Teen Perspective: Taking Care of Your Body