Swimming provides sustained aerobic activity that works the entire body; it is particularly good for upper body development, and it's excellent for anyone who has joint problems, particularly foot, knee, or low-back problems that make walking or running painful. The very overweight and very sedentary will probably find that swimming is a much more "user-friendly" activity for starting out.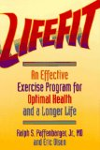 Swimming has many great benefits which include increased cardiovascular capacity, resistance training, core conditioning, and stress release. During the front crawl, maneuvering in the water via rotating on a vertical axis is important to maintain gliding momentum and decrease friction forces from the surface area of both the swimmer's head and the water's surface. This will condition your core muscles with includes muscle such as the transverse abdominals, gluteus maximus and medius, erector spinae (deeper back muscles), latissimus dorsi (back muscle) as well as increase pulling strength in the lats and teres major muscles. Breathing during swimming conditions your heart to increase its pumping action and increase efficient systemic perfusion to all of the tissues of your body. Lastly, gliding in the water is a form of relaxation that can add some tranquility into a stressful life. A good pick for exercise!
Swimming can provide an excellent cardiorespiratory workout and can assist with muscle toning, muscle recovery, weight loss, and strengthening the lungs while minimizing impact to the joints of the body. These factors make swimming a great choice for those with certain physical injuries or limitations. Because water provides bouyancy and takes the weight off the body, it can also be a great cross-training exercise to supplement an existing exercise routine.
Continue Learning about Swimming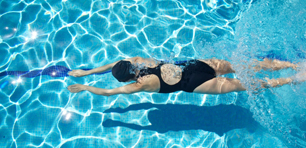 Swimming is a sport that provides many health benefits such as weight loss and toned muscles. Swimming is a great cardio and endurance exercise that burns calories. Wearing earplugs and practicing breathing techniques can help pre...
vent injuries that plague swimmers.
More