Surgery can be used to treat cancer by cutting out the cancer. Depending on how big the cancer is, where it is in the body, and whether it has spread to other parts of the body, doctors might be able to remove it. However, not all cancers can be removed using surgery.
The mainstay of treatment for many solid (hard) tumors is surgery to remove the cancer and to determine whether or not the cancer has spread. Surgery is not an exact science, and there are risks and benefits to any procedure doctors perform on patients. Most hospitals use a standard consent form for surgical procedures whether it involves surgery on your brain or surgery on your toe (or anywhere in between). Standard risks from surgery typically include bleeding, infection and damage to nearby organs. Unfortunately, on the rare occasion, patients may experience severe complications or even death. Anesthesia has its own risk, but that risk is generally very small.
While all of this may sound scary or even overwhelming, the truth of the matter is that surgery is a very safe practice in the 21st century. If your doctor is recommending surgery, he or she has likely explained to you that the benefits of surgery far outweigh the risks in your particular case. In any event, before undergoing any surgical procedure, make sure you understand the full extent of the procedure being proposed as well as risks and benefits associated with it.
Always discuss with your doctor any alternatives to surgery to treat your condition, and strive to understand the advantages or disadvantages of each treatment plan. Surgery has come a long way in the past several decades, and many procedures have been streamlined and techniques have been modified that now allow radical surgeries to be performed through small incisions. Depending on the type and location of your cancer, you may be a candidate for minimally invasive (laparoscopic) surgery or even robotic surgery. While you are getting the same surgery on the inside, the incisions on your skin are the size of band-aids and because of that, recovery from surgery is significantly faster than if you had a traditional open surgery. An overall quicker recovery period means a better quality of life and includes less surgical pain, less need for pain medications, less time in the hospital and a quicker return to your normal lifestyle. Minimally invasive surgery is not for everyone, but is worth asking your doctor about, especially if you are undergoing any type of abdominal or pelvic surgery.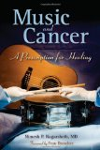 More About this Book
Music And Cancer: A Prescription For Healing
From diagnosis to end-of-life care to the meaning behind life with cancer, Music and Cancer: A Prescription for Healing is designed to improve the quality of life of people affected by cancer in a...
In general, surgery is the most commonly used treatment for cancers that form solid tumors. The primary goal of cancer surgery is to completely remove all detectable traces of tumor (or tumors), preferably with a margin of normal tissue surrounding all surfaces of the tumor(s).
In addition to the complete removal of primary tumors (and, in some cases, metastatic tumors as well), surgery is also often used to "stage" a patient's cancer. For many types of cancer, the surgeon not only attempts to remove all detectable deposits of tumor, but he/she also may remove lymph nodes in order to determine if cancer cells have already spread outside of the primary tumor. Staging of regional lymph nodes is routinely done for many types of cancer, including breast cancer, colorectal cancer, melanoma, lung cancer, stomach cancer and most gynecologic cancers, among others.
As surgery is considered a "local-regional" therapy, many patients with cancer may also be advised to undergo chemotherapy, or other types of therapy that treat the entire body, in an effort to destroy microscopic deposits of cancer cells that the surgeon cannot see or feel.
Surgery is often one of the first steps for many cancer patients. It can be used in obtaining a biopsy as part of the diagnosis, or it can be part of the treatment plan.
Unlike radiation and chemotherapy which destroy the cancer cells but leave them in the body, surgery tries to remove the cancerous tumor or tissues from the body. In many cases, lymph nodes found near the tumor are also removed to help determine if the cancer has spread. Depending on the type of cancer and its location in the body, different types of surgeons may be involved in your care. For example, a urologist would perform prostate surgery, while a thoracic surgeon would perform lung cancer surgery.
The advances in surgical technology in recent years have been significant. While not suited for every patient and every diagnosis, less-invasive approaches to surgery, which help patients recover faster, are used whenever appropriate.
Continue Learning about Surgery For Cancer