The common protection ingredients having both UVA and UVB are:
Physical sunblocks (these provide both long and short-wave
protection)
Titanium dioxide
Zinc oxide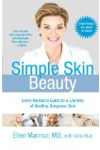 Certain sunscreen ingredients protect against both UVA and UVB radiation. These include oxybenzone, octinoxate, ecamsule, titanium dioxide, zinc oxide and avobenzone. These are known as broad-spectrum ingredients because they provide dual UVA/UVB protection against the radiation that ages the skin, causes sunburns and can lead to skin cancer. For more information about sun protection, consult a dermatologist.



Continue Learning about Sunburn Prevention