The sun's UV rays help the body to produce vitamin D, which is essential for health. The key is moderate exposure.
Sunshine is essential for our bodies to turn specific kinds of cholesterols in foods into vitamin D, an important nutrient that helps decrease aging of the cardiovascular and immune systems. Then, the liver and kidneys convert vitamin D into vitamin D3, the active form of the vitamin. Just ten to twenty minutes of sunlight a day appears to be the optimal amount of sun that each of us needs; this amount can make your RealAge (physiologic age) 0.7 years younger.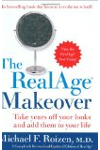 We need the sun. Without it we would all be vitamin D deficient. Sun exposure is a natural mood elevator—think how depressing winters can be. And there may be other things the sun does for us that we don't even understand yet. Twenty minutes a day in the sun and you will feel and look better. But that's it.
We need some sun exposure to allow our skin to make vitamin D. Vitamin D is needed for our bones to grow. Very few foods are natural sources of vitamin D. (Fatty fish livers and eggs are an exception.) A lack of vitamin D has been linked to a disease called rickets. However, we don't see rickets very often anymore.
Continue Learning about Sun Care