The signs and symptoms that accompany suicidal feelings in bipolar disorder include the following:
Talking about feeling suicidal or wanting to die
Feeling hopeless, that nothing will ever change or get better
Feeling helpless, that nothing you do makes any difference
Putting affairs in order (such as organizing finances or giving away possessions to prepare for your death)
Putting yourself in harm's way or in situations where there's a danger of being killed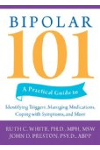 All of us would like to know of any warning signs that a suicide attempt is imminent in people with bipolar disorder. The answer is sometimes there are, but sometimes the suicide occurs in a severe mixed state that occurs suddenly, and friends may have no way of seeing it coming. The warning signs that can tip one off are several, including talk of suicide or death, or just references to death. The individual may "put their affairs in order" by giving things away, updating a will, going through the garage full of stuff, and doing the things that would make it easier on those they leave behind. Acquiring information online about how to commit suicide or researching materials to help one commit suicide are of course major red flags. Rehearsal, in the form of visiting the place one plans to commit suicide, tying a rope, or dry firing a gun, are all serious red flags as well.
Continue Learning about Suicide & Suicidal Behavior