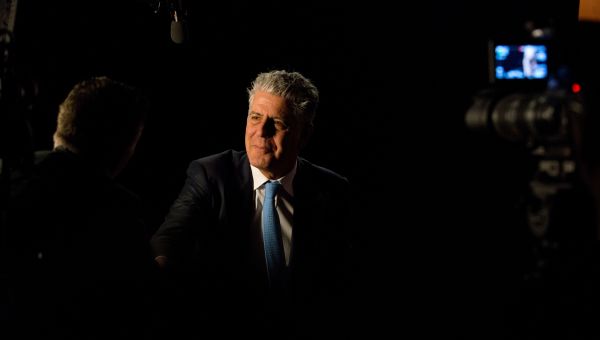 The New York native was a chef, bestselling author and Peabody Award-winning TV host.
Anthony Bourdain, chef, author and host of CNN's Parts Unknown, has died by apparent suicide. The network reports the 61-year-old was found Friday morning in France, where he was working on a new episode of his show.
"It is with extraordinary sadness we can confirm the death of our friend and colleague, Anthony Bourdain," CNN said in a statement. "His love of great adventure, new friends, fine food and drink and the remarkable stories of the world made him a unique storyteller. His talents never ceased to amaze us and we will miss him very much. Our thoughts and prayers are with his daughter and family at this incredibly difficult time."
Suicide in America
Bourdain's passing follows a new report from the Centers of Disease Control and Prevention (CDC) stating that the suicide rate in America rose between 1999 and 2016—more than 30 percent in 25 states. While suicide rates increased in every state except Nevada, the rate increased the most in North Dakota, by 57.6 percent, and the least in Delaware, by 5.9 percent.
Related: How to Help Someone Who Is Contemplating Suicide.
The CDC report also found that, according to 2015 numbers in 27 states, 54 percent of people who died by suicide were not known to have a mental illness beforehand. The other factors contributing to the suicides included issues with substance abuse, health, relationships and money. In 2016, there were almost 45,000 suicides in the US; it is the tenth-leading cause of death of Americans.
His life
After years of cooking for prominent restaurants, Bourdain rose to fame in 2000 following the publication of his bestselling memoir/expose Kitchen Confidential: Adventures in the Culinary Underbelly. Smart, funny and candid, the New York native soon jumped to television, where he hosted multiple travel shows focusing on food, including A Cook's Tour, No Reservations, and Parts Unknown, for which he won a Peabody Award.
He remained a fixture on other cooking shows and an oft-published writer throughout the years, and is survived by a young daughter.
How to get mental health help
If you or someone you love is contemplating suicide, it's important to get help.
Call the National Suicide Prevention Lifeline at 1-800-273-8255 anytime 24/7 for confidential and immediate assistance. You can also visit the organization online to chat online or get more information about services.
Text the Crisis Text Line at 741741. The service is free to text, operates 24/7, and connects you immediately with a counselor.
Photo courtesy of Peabody Awards.
Medically reviewed in June 2018.