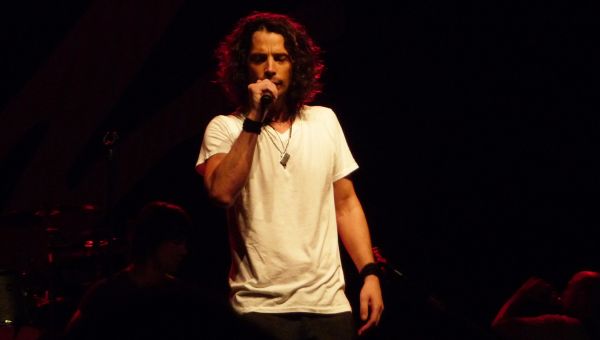 The grunge icon killed himself by hanging after a show in Detroit.
Chris Cornell, lead singer of Soundgarden and titan of grunge music, killed himself by hanging in Detroit, Michigan, on Wednesday, May 17. Cornell played a sold-out show with a reunited Soundgarden at the Fox Theater hours before he was found, and had posted on Twitter earlier in the day. His last song was reportedly Led Zeppelin's "In My Time of Dying."
"A shining voice in music has left us in the midnight," said Lollapalooza founder Perry Farrell, one of the dozens of musicians remembering Cornell on social media platforms. "He was a complex and gentle soul."
Armed with one of the most dynamic voices in hard rock, Chris Cornell rose to fame as the frontman for Soundgarden, the band he formed with guitarist Kim Thayil and bassist Hiro Yamamoto in 1984. Albums like Louder Than Love and Badmotorfinger were critically acclaimed and beloved by early fans, but it wasn't until 1994's multiplatinum Superunknown that Soundgarden broke through to a wider audience. Alongside Seattle-based bands like Pearl Jam, Nirvana and Alice in Chains, they helped grunge music become a cultural touchstone in the 1990s.
After Soundgarden's breakup in 1997, Cornell continued to tour and release solo music. In 2001, he founded Audioslave with members of Rage Against the Machine. The group made three albums together—two went platinum—and disbanded in 2007. In recent years, Cornell had reunited with Soundgarden, and was touring with them at the time of his death. He was also a key member of Temple of the Dog, an influential Seattle band featuring members of both Soundgarden and Pearl Jam, including singer Eddie Vedder.
Cornell is survived by his wife, publicist Vicky Karayiannis, along with a son and two daughters. He was 52.
If you or someone you know is contemplating suicide, get help immediately by calling the National Suicide Prevention Lifeline at 1-800-273-8255.
Photo courtesy of Jscomputerdad.

This content was updated on May 18, 2017.