The pre-teen and early teen years are a great time to talk to your kids about drinking. Between the ages of 10 and 14, some kids begin to experiment with alcohol. Even if your child hasn't tried it, she may be receiving pressure to. During these years, parents still have more influence on their kids than their peers, so take advantage and let your children know that alcohol is not okay for kids.
The bottom line is that alcohol is dangerous for kids. It puts them at risk for violent crimes, accidents, and trouble in school. Despite the fact that it's legal for adults, alcohol is a powerful drug, and for anyone under the age of 21, it's also against the law.
Ask your child what he or she knows about alcohol and if he or she knows kids who drink. Then listen to what your child has to say. Although you don't need to cover too much information at once when talking to your kids about drinking, there are some things that your child needs to know:
Alcohol impairs a person's judgment, making it more likely that they'll participate in risky and harmful behavior, or become a victim of crime.
Beer and wine are not safer to drink than hard alcohol. A shot of liquor, a glass of wine, and a can of beer all contain the same amount of alcohol.
It takes a few hours for a single serving of alcohol to leave the body. Coffee, cold showers, and exercise will not speed this process up.
From Good Kids, Bad Habits: The RealAge Guide to Raising Healthy Children by Jennifer Trachtenberg.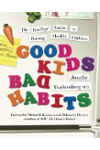 Continue Learning about Substance Abuse In Teens