Abuse of prescription medications among teens is rising at an alarming rate, and many teens think that if you or another family member take it, it must be safe. Recreational use can be the gateway to addiction, overdose, or worse.
To reduce the risk of prescription pilfering, talk openly with your kids about the risks and dispose of medications you no longer need. Powerful prescription pain relievers, stimulants, sedatives, and tranquilizers are finding their way out of the medicine cabinet and into schools and "pharming" parties where children share, trade, and ingest prescription drugs.
Although open and honest dialogue about the dangers of drugs greatly reduces your child's risk of abuse and addiction, peer pressure can be persuasive. Reduce the temptation in your own home by keeping over-the-counter and prescription medications safe from your children and their friends.
Also, be aware that many medications such as Vicodin, OxyContin, and Valium are easily obtained online. Often referred to as "pill mills," these overseas Web sites are not monitored by the U.S. Food and Drug Administration and will provide pills to anyone with a credit card. Monitor your child's online activity (and your credit card) as much as possible.
From Good Kids, Bad Habits: The RealAge Guide to Raising Healthy Children by Jennifer Trachtenberg.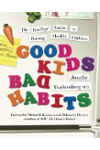 Continue Learning about Substance Abuse In Teens