Here are some common errors to avoid when doing the tensor fascia lata (TFL) and quadriceps stretch exercise:
If you experience back pain while stretching, your abdominals aren't stabilizing your spine adequately, and your pelvis is rotating more than it should. Begin again and become more aware of when your spine starts to arch off the table. Stop there and let the tissues stretch. Remember, this is not a contest. You'll have plenty of time to stretch these muscles and develop awareness of your spine.
If you stretch too aggressively, knee pain in the leg that's being lowered may result. Lower your leg only within a comfortable range of motion, or slide your leg out to the side and then lower it. Find a position where you can experience the stretch pain free. Your goal will then be to gradually work your way back in, so you can lower your leg straight down instead of out to the side.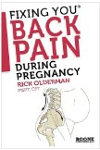 One thing you should avoid when stretching the quadriceps is sitting on both knees and leaning back. This stretch may feel like it's getting the job done, but at the same time, it's placing excessive stress on the knees and ankles. The best way to stretch the quads and TFL are by standing, or kneeling on one knee.

Continue Learning about Stretching