As with most types of stretching, avoid jerky or bouncy movements. Don't stretch too far, or for too long a period of time (longer than 30 seconds). Directed stretches should be slow and progressive, and keep the joint in its proper position. Each repetition should yield a little more flexibility.
Remember that sudden, jerky, or bouncing movements while doing directed stretching are potentially harmful. From a mechanical standpoint, combined motions place significant stress on the spine and discs, and some critics caution against their use. But your spine, discs, and muscles are very dynamic structures with a tremendous ability to respond to these movements and forces in a positive and adaptive manner. Movement is required to disrupt old adhesions and organize the deposition of new tissue patterns. However, lifting, working, or staying in these positions for extended periods can cause excessive strain, so thirty seconds is the maximum time you want to spend in these stretches.

While doing any directed stretching, you always want to focus on increasing your movement. The gradually increasing movements will give you the positive feedback and motivation to continue. If you are focused on the pain you may be feeling, you will likely limit your stretching -- and your results. Remember, these exercises are designed to identify the offending muscle, target the site for stretching, and produce changes in the shape and consistency of chronic muscle spasms. Rushing through a few stretches will never accomplish that goal. You must take your time and measure your progress not only from day to day but also from stretch to stretch.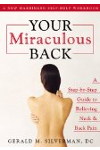 Continue Learning about Stretching