A great way to stretch the chest muscles is to perform a standing chest stretch. This stretch can be performed against any stable object such as a doorway, wall, pole, etc. Perform the stretch by following the technique described below. Start by standing with the forearm in a vertical position against a stable object with the elbow and shoulder bent at 90-degree angles. Next, place the feet in a staggered stance position so that the leg in back is the same side as the chest muscle being stretched. Lastly, slowly shift your body weight forward until a stretch is felt in front toward the front of the shoulder and chest; hold the stretch for 30 seconds and repeat on the opposite side.
With daily use, we usually do a good job maintaining shoulder motion to the front and sides. We do not do as good a job at keeping the back of our shoulders and rotator cuff (the four small muscles that keep our shoulder joint together) well stretched. Keeping the back part of the shoulder flexible helps our rotator cuff maintain shoulder stability. This is true for regular people like you and me as well as elite athletes such as baseball pitchers. Flexibility in the back of the shoulder is key to keeping your arm well-centered in your shoulder socket. Here's how to stretch your shoulders:


1. Stand with your feet shoulder width apart.

2. Raise your right arm up to shoulder height and move it across the front of your body.

3. With your left arm, pull the right arm as close to your chest as possible and hold it for 30 seconds. You should feel the stretch across the back of your shoulder.

4. Repeat this four times, then switch to the left side.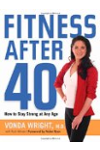 More About this Book
Fitness After 40: How to Stay Strong at Any Age
It's one of the undeniable facts of life. After we reach a certain age, our bodies change. No matter how fit we may have been at 20, we're very different people after 40. But growing older doesn't...
To stretch your chest, stand with your feet shoulder-width apart, and hold a long pole over your head with both hands. You may use a broomstick for this purpose or purchase an exercise bar. Slowly lower the pole behind your head until you feel the stretch or the pole come to rest at the base of your neck. Hold this pose for 10-20 seconds. Do this only once.

Hold your arm raised to the side to 90 degrees with the elbow flexed to 90 degrees. Stand next to a wall and place your elbow and forearm against it. Twist gently away from the wall while keeping your forearm and elbow against it so that you stretch your front chest. Hold for 10 seconds. Repeat this on the other side of your body. Hold for 10 seconds. Repeat 3 times.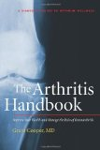 To stretch your chest muscles, lie on your back with knees bent to flatten your lower back. Bring your arms out to the side at 90 degrees. Hold for 30 - 60 seconds. Be sure your lower back does not arch. Relax, then repeat. Slide the arms up to 120 degrees and stretch there as well. Perform 3 - 5 repetitions.

If you feel pain in your shoulder, place pillows or towels under your arm or wrist to decrease strain on the muscle.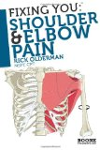 Here's how to do a chest stretch:
Reps: 3-4
Sets: 1
Intensity: Light to moderate
Hold: 10-30 seconds
Rest: No rest needed
Starting position: Stand in a doorway facing forward. Extend your right arm and put your right hand on the edge of the doorframe slightly below shoulder level, palm facing forward and touching the doorframe. Keep your shoulders down and back.
Movement: Slowly turn your body to the left, away from the doorframe, until you feel the stretch in your chest and shoulder. Hold. Return to the starting position. Finish all reps, then repeat on the opposite side.
Tips and techniques:
Stretch to the point of mild tension, not pain.
Breathe comfortably.
Too hard? Put your hand a bit lower on the doorframe and don't turn as far.
Too easy? Repeat the stretch several times during the day.
Hold an exercise band loosely in your hands and interweave your fingers behind your head without touching your head. While standing upright, act as if there are strings on your elbows and hands, pulling them directly behind you as you take five deep breaths.
Continue Learning about Stretching