Use this exercise to keep your triceps (the muscle in the back of the upper arm) stretched:

1. With your feet shoulder width apart, raise your right arm straight up and over your head.

2. Bend your elbow so that your right hand is reaching for your left shoulder.

3. Use your left hand to press back on your right elbow. You will feel a great stretch in the back of your arm and upper shoulder.

4. Hold for 30 seconds and repeat four times on each side. Remember to breathe while you do this. (It feels great.)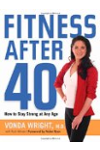 More About this Book
Fitness After 40: How to Stay Strong at Any Age
It's one of the undeniable facts of life. After we reach a certain age, our bodies change. No matter how fit we may have been at 20, we're very different people after 40. But growing older doesn't...
With your feet shoulder width apart, raise your right arm straight up and over your head. Bend your elbow so that your right hand is across the top of your head towards your opposite shoulder. Use your left hand to press back on your right elbow pulling your arm across the body. Repeat using the other arm; hold each stretch for three seconds repeat for as many sets as necessary.

Extend one arm across your chest, palm facing backward. Hook your other arm underneath it, elbow bent, fingers pointing toward the ceiling. Use your hooked arm to pull your straight arm backward. Hold for 15 seconds; reverse arms and repeat. Breathe deeply throughout the stretch. Resist raising your shoulders toward your ears; shoulders should be level and even with each other.
Continue Learning about Stretching