To stretch the extensors of the neck, bring your chin down towards your chest. Feel a stretch and hold for 30 seconds. Secondly, slightly rotate your head to one side, and bring your ear to your shoulder. Use your hand on the same side to provide slight pressure. Hold this for 30 seconds and repeat on both sides.
The neck extensor stretch exercise improves range of motion in your neck and restores the neck-extensor muscles to their proper lengths.

Lie on your back with your head resting comfortably. While slowly bringing your arms into an overhead position resting on the floor, lengthen the back of your neck, separating the base of the skull from your neck; doing this properly will cause your chin to slightly nod toward the front of your neck.

Hold for 30-60 seconds, focusing on lengthening the base of the skull rather than tucking your chin. Bring your arms back down to your sides, making sure your neck does not arch. Maintain the lengthened position at the base of your skull. If this maneuver is difficult, then practice it with a limited range of motion until you can control your neck extension. Perform 2-5 repetitions.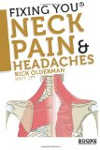 Continue Learning about Stretching