To best perform the seated hamstring stretch sit on a stability ball, with feet placed flat on the floor. While keeping your back flat and spine in a neutral position, slightly lean forward.
After the slight forward lean, straighten your knees by pushing your feet in to the ground and rolling the stability ball back.
You should feel a gentle stretch in the back of the legs. Hold the position for 30 seconds before returning to the start position. Perform 2 sets of 30 second stretches, 2-3 times daily.
The hamstring stretch exercise stretches tight hamstrings responsible for poor pelvic motion while bending forward. Hamstring stretches also strengthen the back extensor muscles to keep the spine from excessively flexing. This exercise will help you develop awareness of excessive spinal flexion during daily activities.

To perform the hamstring stretch exercise while standing, stand with your left foot on a low step with your knee straight. Place your hands on your hips and bend forward from the pelvis until you feel the stretch in the hamstring at the back of your left leg. Be sure your spine is not flexing; instead, maintain a straight spine to strengthen your paraspinal muscles. Hold for 30 to 60 seconds and repeat on the other side. Alternate 2 to 5 times per leg.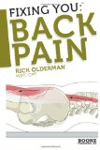 Continue Learning about Stretching