While stretching commonly tight areas like the shoulders, calves and hips are great places to start, using the results from a movement assessment such as the Overhead Squat is ideal. A movement assessment can point to specific muscle groups that are overactive. Overactive muscle groups feel tight and restrict motion in your joints and require stretching to return them to a more ideal position.

The technique most people should start with is static stretching. Begin by selecting 2-3 muscle groups to focus on before a workout. To perform each stretch, hold the end position for at least 20-30 seconds. Remember to stretch to a point of tension, not pain. The tension is enough to yield results from the stretch. Whether you are stretching your upper or lower body, be sure to pull the area below your navel in toward your spine which will help to keep your pelvis and spine in good posture. Also be sure to keep breathing and stop the stretch should you feel any pain, numbness or tingling.
If you have never stretched before, I encourage you to make a commitment to it. Start slowly, under the direction of an experienced physician, physical therapist, or trainer. After a few weeks, you will become more flexible, which should help you control and alleviate your arthritis symptoms.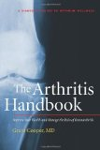 You can begin stretching at anytime; you do not need to achieve a certain fitness level to start. You can begin by stretching in the morning or the evening. Most research studies on static stretching have shown a frequency of five days per week using 1-4 repetitions for the duration of 15-30 seconds to be most beneficial for the apparently healthy population between the ages of 15 and 45 years of age. Though, there is a range in time, 20- to 30-seconds of stretch duration may in fact produce more reliable, and possibly quicker, results. In a population of clients equal to or greater than 65 years of age, it has been shown that longer durations of 60 seconds may produce better and longer lasting results.
Continue Learning about Stretching