Many women try to mask their symptoms of low energy due to stress with something that makes them feel invigorated, albeit superficially. You can spend a small fortune at the mall, for instance, that doesn't really do anything for you but drain your bank account and your energy due to the stress of going broke. We've met moms who admit they've overspent money on superfluous items because they didn't want to face reality and get to the bottom of why they were sad. So they not only max out their credit cards, but they go home still longing to feel better as they juggle demanding children. The kitchen then calls to them, and they start eating -- chips, a carton of ice cream, and liter of soda for the caffeine -- and then they usually end up feeling bad about all those calories and money spent. The next day, their physical and emotional energy is really low, and the cycle can repeat itself. And if it's not the mall calling them, it could be the cocktail bar, or engaging in fantasies of living an easier life -- or even cheating on a partner to get energy from the excitement of an affair. There's definitely something to be said for the energy derived from behaviors that have a "forbidden" factor or "forget it for a moment" component.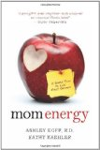 More About this Book
Mom Energy: A Simple Plan to Live Fully Charged
       From celebrated dietitian Ashley Koff and fitness trainer to the stars Kathy Kaehler comes Mom Energy, an exciting new way for moms to tap into their own natural and renewable sources of...
Continue Learning about Stress

It is not uncommon for people to experience stress and anxiety during select periods in their lives. Having a positive attitude, taking a balanced approach to life's ups and downs, and using relaxation exercises are just some of t...
he ways that people can alleviate stress and anxiety.
More