Children in this age group commonly react to stress by acting out, sleeping poorly, and showing a decrease in school performance. Some kids will regress in their potty training and developmental skills. Others may become more parent-dependent and need more family time.
Any of the following can be normal reactions when your child is exposed to stress:
Difficulty sleeping
Academic difficulty
Unreasonable fear
Gastrointestinal upset, headache/migraine
Regression of behavior
Avoidance of social interaction
Distraction, lack of focus
Irritable, combative
Withdrawn
You should consider professional help if you see:
Any reactions to stress that are prolonged or severe
Repeated bedwetting
Overly anxious, unable to relax
Unable to leave parent(s)
Bouts of crying unrelated to any event
From Good Kids, Bad Habits: The RealAge Guide to Raising Healthy Children by Jennifer Trachtenberg.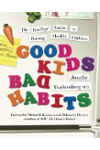 Continue Learning about Stress