The following are tips for managing stress related to parenting a child with chronic illness:
Make sure you get enough rest and food.
Pay attention to your spouse and talk about what you're both feeling.
Don't plan ahead too much. Instead, break your child's treatment into small blocks of time so that you plan only for the next week or so.
If you need help with the financial side of your child's illness, talk to your doctor or hospital staff about specific options for your child's condition.
From The Smart Parent's Guide: Getting Your Kids Through Checkups, Illnesses, and Accidents by Jennifer Trachtenberg.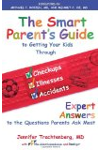 Continue Learning about Stress