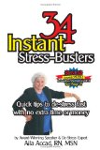 Your body is a container for stress. Holding stress inside your body creates a pressure cooker effect. Like a pressure cooker, the more pressure builds, the more energy you need to keep it contained. This is distressful. Letting the stress out of your body periodically is vital to releasing the pressure and increasing availability of eustress energy (the kind that supports your life force energy and helps you feel alive and productive). You can:
Write it out in a journal. If you are afraid someone will find your notes, burn them. Make it a ritual of getting rid of the stress from the worry or concern you cannot do anything about.
Talk it out with a confidant, friend or counselor.
Sweat it out with exercise, a walk, dancing or sports.
Pound it out on a pillow or stomp your feet.
Cry it out.
Scream it out.
Pray it out.
Write it out.
Releasing the tension releases the energy that is bound up in trying to keep all the stress tightly contained in your body. Over time, keeping tension held tightly in your body is like being a pressure cooker. Keeping the lid on the pot is exhausting. Moreover, after years of stuffing the stress, just one small event or issue can trigger the lid blowing. Letting off steam regularly can keep you from blowing your lid.