Stress hormones work throughout various regions of the brain to influence everything from mood and fear to memory and appetite. And they also interact with hormonal systems that control reproduction, metabolism, and immunity. So the HPA axis is like a curious 2-year-old, touching everything in its path. That's OK in short spurts, but not when you over fill your hormonal systems. That's why stress is so highly correlated with bad health. Specifically, this is what happens when you let the hormones in the HPA axis run crazy:
An overactive HPA axis can mean that your body is unable to turn off your stress response. That can lead to anxiety and depression, which are further manifested through such things as low sex drive and high blood pressure—both associated with aging.
When the HPA axis is flooded, we also experience other potentially fatal health problems, like elevated lousy LDL cholesterol or triglycerides combined with reduced healthy HDL cholesterol. Part of this risk comes from a stress-related surge in chemicals called cannabinoids, which cause us to eat and can eventually lead to such conditions as diabetes and obesity.
If the HPA axis is activated for too long, it hinders the release of growth hormone, and you need your growth hormone to help combat some aging-related diseases and conditions and to build lean muscle mass.
If you keep the axis activated for too long, it can develop an exhausted response—and that produces a wiped-out feeling when stress does come.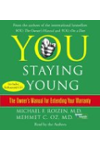 Continue Learning about Stress