Begin your day on a gentle note by replacing your clock radio with one of the many new alarms available that wake you to the soothing sounds of nature: rain, waves, wind, or a bubbling creek. You may want to wake up to your favorite CD of music or maybe someone's voice. Another great way to wake up gently is with an artificial sunrise alarm or lamp. Or plug your CD player or a bright light into an inexpensive timer to make a "clockless" alarm.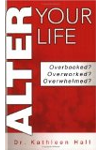 Here are some ways to wake up to a stress-free morning:
Don't turn on the news channel.
Don't boot up your computer.
Don't power up your phone.
Instead, ease into your day by:
stepping outside and going for a short walk
practicing some gentle yoga
doing a guided imagery exercise
reciting positive affirmations
Amplify the impact of these activities by inviting your partner, kids, roommates or friends to join you. By doing so, you move in joyful ways, spend quality time with loved ones, get fresh air and sunlight and dial into your thoughts and feelings all at the same time.
Continue Learning about Stress