You are part of a larger cosmos. You are not isolated, as the boundaries of your body suggest.

Whether you look at life from a religious, spiritual or scientific perspective, what you think and feel affects the environment and the environment affects you. Spending time in nature reconnects you to your natural rhythms. It is easy to lose your center when attending to other people, television, the computer, shopping and so on captures your attention.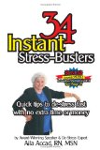 According to the mental health charity Mind, "ecotherapy" has many mood benefits. Mind has funded over 130 projects in England and has reported that 69 percent of people in their studies have received mental health enhancement with nature activities.

Furthermore, UK charity Ramblers and Macmillan Cancer Support found that two and half hours of walking or gardening per week could lower stress levels. This effect is reported to keep people healthier and emotionally calmer.

Finally, in 2007, the University of Essex in the U.K., reported that their study showed that a walk in the country reduced depression in 71% of participants. They found that even five minutes in a natural setting improved mental health measures.

What if you can't get outdoors right away when you are stressed out? You may want to create visual clues. A 2009 study in the Journal of Environmental Psychology demonstrated that students who viewed restorative nature pictures, especially containing water, verses the absence of them, had less fatigue.
If you want to boost your mood, take a stroll outdoors. What used to be an obvious path to happiness is now moving to the back burner as we all spend more time indoors with our computers. Take a walk in the woods, on the beach, or even in the park -- anywhere you are in contact with the natural world. It is hard to feel unhappy when you are surrounded by nature's abundance of beauty and wonder. The natural sunlight will also give you a natural lift.
Continue Learning about Stress