For many people with bipolar disorder, stress triggers symptoms, and if you're already experiencing symptoms, stress may aggravate them, making them worse. However, as you know, bipolar disorder is different for everyone, so this action step will help you explore whether stress is a trigger for you. These questions are more easily applied to single events than daily stressors. This action step will help you and your mental health provider understand the impact of stress on your behaviors and on your bipolar disorder.

Make a list of your five most stressful situations. For each of the five situations, answer the following questions:

1. On a scale of 0 to 10 (with 0 meaning no symptoms and 10 meaning extreme symptoms), how would you rate the severity of your bipolar symptoms before the stressor occurred?

2. In the two weeks after the stressor occurred, how would you rate the severity of your bipolar symptoms?

3. Did you increase your use of alcohol, cigarettes, drugs, TV, or computers after the stressor?

4. Did your appetite change (ate more or less, or indulged in certain types of food) as a result of this stressor?

5. Were there any other behavioral, emotional, or psychological responses to the stressor?

6. How long did it take you to return to your "normal" self?

Look for linkages between stressors and behaviors. You'll want to reduce the triggers by reducing stress, and decrease the likelihood of an episode by increasing the relaxing activities in which you participate.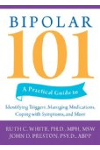 Continue Learning about Stress