Stress increases adrenaline, increases your stress hormones, increases your blood pressure, increases your blood sugar, impairs your memory and slows your digestive function. Because of these physical reactions of your body to stress your risk of chronic diseases increases such as heart disease, stroke, cancer, obesity, depression and hypertension.
Every element of metabolic syndrome, which include excess weight/obesity, high blood pressure, cholesterol abnormalities, elevated blood sugar and diabetes, and fatty liver can be promoted and/or aggravated by stress. Stress increases the risk of heart disease in healthy persons and increases the risk of dying in those who have had heart attacks. Stress is also associated with osteoporosis. Frankly, with the knowledge caregivers have regarding the link between stress and disease, we should be issuing the following warning: When your body's stress response is constantly triggered, you may be vulnerable to serious health problems.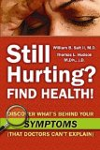 Continue Learning about Stress

It is not uncommon for people to experience stress and anxiety during select periods in their lives. Having a positive attitude, taking a balanced approach to life's ups and downs, and using relaxation exercises are just some of t...
he ways that people can alleviate stress and anxiety.
More