The U.S. Bureau of Labor estimates stress costs U.S. businesses $300 billion annually in lost productivity, absenteeism, accidents, employee turnover and medical costs. "Attitudes In The American Workplace VI" Gallup Poll found that:
80% of workers feel stress on the job and nearly half say they need help in learning how to manage stress.
42% say their coworkers need such help.
14% felt like striking a coworker in the past year, but didn't.
25% felt like screaming or shouting because of job stress.
10% are concerned about an individual at work they fear could become violent.
9% are aware of an assault or violent act in their workplace.
18% had experienced some sort of threat or verbal intimidation in the past year.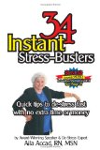 Continue Learning about Stress