Attach taking an action to de-stress -- like a deep breath -- to a simple activity you do several times a day. Whenever you pick up your keys, get in the car or hang up the phone or feel a stone in your pocket, remember to breathe or do one of the other quick stress tips.

Set your calendar alarm on the computer at the beginning of the day to remind you to take an action to de-stress every hour.

We are creatures of habit. Setting a reminder for a few weeks will begin to condition your body and mind to create the habit of de-stressing. After a few weeks, you may find yourself naturally doing your de-stress action regularly without the reminder.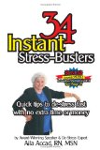 Continue Learning about Stress