Stress unfortunately is a normal part of living and it is important that we learn healthy ways of dealing with stress. It is important that you do not make spontaneous decisions when you are stressful, take a minute to calm down the think over the issue. It is important that you do not react without thinking. That is the behavior that can potentially lead to harming your child.
If you feel like harming your child, it may be best to walk away from the situation until you calm down. However, in the long run, for the health of you and your child, learning some relaxation techniques and coping mechanisms will help you to deal with stress and reduce your stress levels. Speak to your family doctor for further advice and a referral to counseling.
Children often take their cues from their parents, so during stressful times it's important for parents to remain calm for their children's sake. It's OK to let your child know when you're worried, but if you model appropriate reactions to stress, your child will feel more secure and will learn how to remain in control even during difficult times. Studies have shown that in traumatic circumstances such as wars or earthquakes, children most often cope as well or as poorly as their parents. A parent who overreacts in stressful situations may instigate their children's irrational fears. Also, during stressful times, children need love and affection more than ever.
From Good Kids, Bad Habits: The RealAge Guide to Raising Healthy Children by Jennifer Trachtenberg.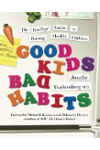 Continue Learning about Stress