Worry is a learned mental habit. Daily conversations and media speculations about possible disasters reinforce worry.

Your mental stress increases to the extent that you engage in worrisome conversations and feed your mind negative speculation about a future you cannot control. Energy tied up in worry is not available to make wise productive choices in this moment. You have the power to influence the future through choices you make today. You can harness and use your mind's fascination with the future by envisioning the future you want, rather than the future you fear.

Fill your mind with images of a desired future and use your mind to plan the steps to achieve that future. This gives you a blueprint upon which you can make purposeful and enjoyable choices today that can influence desired outcomes tomorrow.

You can influence the direction of your future by choosing the images you feed your mind today. Choose what you want, rather than worrying about what you don't want. This increases your happiness and reduces your stress.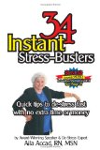 Continue Learning about Stress