Stress is influenced by both the individual and the environment.
Each of us defines what situations we see as stressful and how we respond to the stress. Both positive and negative situations can be stressful. Change almost always is. How stressful we perceive it to be depends on how good or harmful we find it to be and what else is going on in our lives. Something can feel stressful one day and not the next.
What is really important when it comes to stress is not what happens to you, but how you perceive what happens to you. For example, one person might find riding a rollercoaster exhilarating, whereas another may find it terrifying. Both will feel stress from the event, but one will feel good stress, called "eustress" for the euphoric reaction, and the other will feel bad stress, or "distress." An extrovert may love to go to parties, finding working the crowd or meeting new people fun and relaxing, but an introvert may find it draining. The level of stress you feel has a lot to do with your personality, and your subjective interpretation of what is happening to you. While you can't change your personality, you can change many of your perceptions, especially by actively working to cultivate a positive attitude. And that positive attitude can help you stay young by reducing stress and the effects of stress.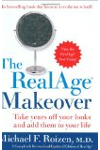 Continue Learning about Stress