The mind resists changing core beliefs. Observe its resistance. You do not need to accept or act on what your mind chatters to you all day long. Become a curious observer of the verbal tapes your mind runs. This running of old tapes (conditioned beliefs) is a function of the conditioned mind. When the tapes are particularly self-critical, the name for this function is the "inner critic" or "bully." It is a powerful force against making changes in your life.

In childhood, your mind formed ideas about how to be safe in the world. The conditioned mind (ego) is all about safety and survival. It gets scared when you decide not to play your life by the old "safe" rules. Like a parent, it is still telling you what to do and judging your performance, often harshly. Although the survival functions of the brain are important, you are no longer a vulnerable infant or child. The primitive fight, flight and freeze responses are limited strategies for managing adult life and relationships.

Observe your mental directives. What are the words your mind uses to keep you tied to old rules? What is the tone of voice? Whose voice does it sound like? Mom? Dad? Someone else? Keep a journal of your observations. Looking over your journal can give you clues to the patterns or specific "rules" that still inform your choices today.

When you take the position of observing your mind with curiosity, instead of believing and allowing it to bully you by what it says, you can free yourself from the mental stress these messages cause.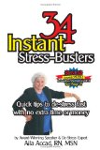 Continue Learning about Stress