When you plan or oversee your child's schedule, keep in mind your child's temperament. Some children need familiar and predictable environments. They thrive on established routines. Other children love spontaneity and change. While one child will be stressed by too much variance from a daily routine, another child will be stressed when held too tightly to a daily regimen. If you have more than one child, you'll likely find differences in stress-causers for each child. Be careful about imposing a one-schedule-fits-all routine.
To help prevent unnecessary stress in your child, be sure to fit in time for relaxation and unstructured play. It may be tempting to rush from school to soccer to theater to homework to bedtime, but day after day of that kind of schedule will eventually result in stress for your child. Plan for down times. Times for your child to explore, create, play quietly in his or her bedroom, read, or just "veg."
From Good Kids, Bad Habits: The RealAge Guide to Raising Healthy Children by Jennifer Trachtenberg.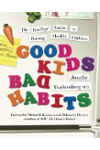 Continue Learning about Stress