Ask the questions "What am I afraid of?" and "In what way do I feel something in this situation is out of my control?" Then address the real fear or control issue.

For example, if you have a fear of making a mistake in a situation, you can ask for help, refresh your skill in that area by reading or practicing or reassure yourself by remembering all the times you accomplished tasks successfully. Sometimes the underlying fear is not obvious. Assess the elements in the situation. Are some or all of these elements present at other times when you feel stressed? Is there a particular type of personality or situation that consistently stresses you? Look for patterns. These can be clues to reveal underlying fears.

Often the original stressor is a memory from childhood that the body is still signaling as a fearsome situation even though, as an adult, you are completely capable of handling it. In these situations, the stress response may not seem logical, yet your body is giving you stress signals.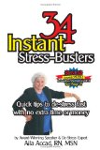 Continue Learning about Stress