There are many ways to deal with stress. Aerobic exercise and meditation are commonly accepted methods. For some, involvement in activities that help other people, work with pets and animals and engagement in the arts are helpful. Perhaps as importantly, avoiding the quick fixes to make you feel better such as drugs, alcohol, and overeating will keep you from making the problem worse.
Stress management techniques can help us change our reactions to those circumstances over which we have little to no control, find more balance in our lives, and become more resilient. We can take care of our emotional well-being in many ways: we may call a friend, go for a walk, cry, go to church, take karate lessons, make love, garden, seek spiritual guidance, watch a funny movie, protest an injustice, or cook.
Women have practiced calming rituals such as prayer, meditation, yoga, drumming, dance, and tai chi for thousands of years. These practices continue to offer us wonderful ways to release emotion; connect to our minds, bodies, and spirituality; and reach a state of relaxation.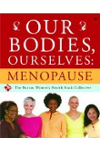 More About this Book
Our Bodies, Ourselves: Menopause
FROM THE EDITORS OF THE CLASSIC "BIBLE OF WOMEN'S HEALTH," A TRUSTWORTHY, UP-TO-DATE GUIDE TO HELP EVERY WOMAN NAVIGATE THE MENOPAUSE TRANSITION For decades, millions of women have relied on Our...
Continue Learning about Stress