Smiling not only reduces your stress but reduces the stress of the people around you. Smiling is contagious. In this nurse's opinion, attitude is more contagious than the common cold.

It's hard to smile and also be thinking about something negative or depressing. The smile itself can change your mood instantly.

What makes you smile? Is there a picture, a gift or some experience or memory that makes you smile every time you see it or think about it? Place a copy of that photo or a memento or symbol of the experience that makes you smile in places where you will see them many times in the day. If you do not have an office or a stationary place where you spend most of your time, put a charm on your key chain to remind you of that thing that makes you smile.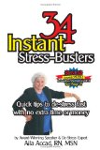 Continue Learning about Stress