Stress is a normal physical response to events that make you feel threatened or upset your balance. When you sense danger -- whether it's real or imagined -- the body's defenses kick into high gear in a rapid, automatic process called the "fight-or-flight" reaction, or the stress response. Stress is part of life, and it affects everyone at one time or another. A certain amount of stress energizes people, improving performance and efficiency. It's only when stress builds too high that problems can develop. Stress also causing major damage to one's health, your mood, your productivity, your relationships, and your quality of life.

How can smiling help reduce stress:

Previous studies have shown that positive emotions can help during times of stress and that smiling can affect emotion. In a study forthcoming in Psychological Science, a journal of the Association for Psychological Science, psychological scientists Tara Kraft and Sarah Pressman of the University of Kansas investigate the potential benefits of smiling by looking at how different types of smiling, and the awareness of smiling, affects individuals' ability to recover from episodes of stress. Their findings showed that smiling during brief stressors can help to reduce the intensity of the body's stress response, regardless of whether a person actually feels happy.

Reference:
http://www.psychologicalscience.org/index.php/news/releases/smiling-facilitates-stress-recovery.html
Smiling not only reduces your stress but reduces the stress of the people around you. Smiling is contagious. In this nurse's opinion, attitude is more contagious than the common cold.

It's hard to smile and also be thinking about something negative or depressing. The smile itself can change your mood instantly.

What makes you smile? Is there a picture, a gift or some experience or memory that makes you smile every time you see it or think about it? Place a copy of that photo or a memento or symbol of the experience that makes you smile in places where you will see them many times in the day. If you do not have an office or a stationary place where you spend most of your time, put a charm on your key chain to remind you of that thing that makes you smile.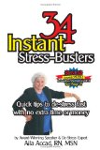 Every morning, wake up and hold a big smile on your face, even if you aren't feeling particularly cheerful. Believe it or not, just moving your muscles into a smile will increase endorphins and decrease the stress hormone cortisol that the adrenal gland releases in times of stress. Repeat a positive affirmation to yourself in the mirror to heighten the happiness. Say to yourself something like, "I can handle the tasks I have ahead of me. I enjoy my responsibilities and fulfill them well." Does this sound silly to you? Well, it turns out positive affirmations can also help suppress cortisol.
Continue Learning about Stress
It is not uncommon for people to experience stress and anxiety during select periods in their lives. Having a positive attitude, taking a balanced approach to life's ups and downs, and using relaxation exercises are just some of t...
he ways that people can alleviate stress and anxiety.
More