Let me preface my answer with the concept that awareness of ourselves physically, emotionally, mentally, and spiritualy can only benefit us. What usually hurts us most is what we think we know but really don't! The benefits of being aware of our thought patterns affects us both emotionally and physically. Think mind body connection. Awareness of our thought patterns often result in a happier and more joyful life since it can lead to acceptance and action. There are many approaches to heighten our awareness of our thoughts. Some people like to write in a daily journal others may choose the services of a mental health professional if thought patterns are disturbing and lasting longer than we like. For example: Psychotherapy using a CBT approach will focus on the thought you are having just before the emotional upset allowing you to become more aware and potentially change your thought patterns. Spiritual approaches can also assist you in changing thought patterns that lead to upset. You can ask others or even use your intuition to help decide for yourself on an approach if you a searching for a change.
Our perceptions and interpretations affect our experiences. Sometimes, we react automatically to things that happen to us with negative thoughts. Learning to be aware of our thought patterns and developing skills to reframe our thoughts may help us cope better. Reversing pessimistic thoughts may start with asking yourself some basic questions: Does this thought contribute to my stress? Is this a logical thought? Is thinking this way helpful to me? Is this thought true?
If you develop skills to reframe your thoughts with a more positive twist, you may sometimes be able to shift from recoiling from "threats" to rising to "challenges." Listening to your thoughts can help in identifying defeatist ideas.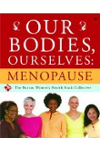 More About this Book
Our Bodies, Ourselves: Menopause
FROM THE EDITORS OF THE CLASSIC "BIBLE OF WOMEN'S HEALTH," A TRUSTWORTHY, UP-TO-DATE GUIDE TO HELP EVERY WOMAN NAVIGATE THE MENOPAUSE TRANSITION For decades, millions of women have relied on Our...
Continue Learning about Stress