Deep abdominal breathing, meditation, and prayer are proven to help moderate stress and help the body relax. Best yet, you can also teach the tension-relieving strategies to your kids!

Use slow, deep breaths. Inhale slowly to a count of five, pause for two counts, and then slowly breathe out the same way, again counting to five. Repeating the sequence creates maximum relaxation. (Using bubble blowers or pinwheels help younger kids learn to take slow deep breaths to blow "meanies" away).

Try elevator breathing. Close your eyes, slowly breath out three times, then imagine you're in an elevator on the top of a very tall building. Press the button for the first floor and watch the buttons for each level slowly light up as the elevator goes down. As the elevator descends, your stress fades away.

Get some yoga on. Adolescents credit yoga as teaching relaxation and breath control. So why not do it with your daughter? Purchase a yoga DVD that you can do at home together.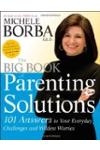 Continue Learning about Stress