Always call your pediatrician if your child has a sore throat that lasts more than twenty-four hours or is accompanied by fever, headache, rash, stomach pain, or vomiting. Those are the warning signs that you might be dealing with something a little more serious than a garden-variety scratchy throat (which can be relieved with non-medicated lozenges).
But these symptoms aren't enough to prescribe antibiotics. Even if I strongly suspect strep, I always perform a strep test before prescribing antibiotics. Skipping this step is bad doctoring. Why? The most common cause of sore throats in children is a viral infection, which antibiotics can't treat. So in most cases, antibiotics are useless. The only way to be certain that your child has a strep infection—and genuinely needs antibiotics—is to do a throat culture or a rapid antigen strep test in the office (many pediatricians can do this, but not all).
Many parents are too quick to ask for antibiotics when their child has a sore throat. Using antibiotics unnecessarily . . . by now you've heard it over and over: It's allowing killer bacteria to become resistant to some of our most powerful and most valuable drugs.
Remember that a possible strep infection must be evaluated by a doctor because untreated strep throat can cause rheumatic heart disease. While that's rare, truth be known, that's really why we prescribe antibiotics for strep throat—to ensure it won't damage the heart.
From The Smart Parent's Guide: Getting Your Kids Through Checkups, Illnesses, and Accidents by Jennifer Trachtenberg.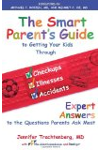 Continue Learning about Strep Throat