My first question is what do you mean by "muscle-bound?" Will lifting weights increase your muscle mass? Depending on how you train and eat, yes. Men can "bulk up" more than women - thanks to hormones. Women who just lift heavy and train hard, and do NOT add steroidal support, won't look "man-ish." but they will have some enviable arms come summer.
Different training protocols will send different messages to your body (and your muscles). A qualified trainer can help you design a program that's right for you and your goals. But don't be afraid of looking "muscle-bound."
No, lifting weights will not make you look muscle-bound as long as you maintain balance in your workouts. Be sure to utilize each of the major muscle groups (eg. Legs, back, shoulders, chest, arms, and abs). People that are muscle bound exercise one muscle group disproportionately to the rest of the body. If you maintain balance in your workouts, you will maintain proportion and look great!
Women ask this question all the time, they worry that weight increases in their fitness routine will make their bodies look masculine. Unless you're using steroids or ingesting testosterone you will not bulk up — you can't. Your body does not produce enough testosterone. Muscle bound women, female bodybuilders use steroids. For those of us who want to look toned, we have to keep changing our work outs and the intensity. So don't be afraid to increase the amount of weight you are using, I promise you won't bulk up.
Many women fear that lifting weights will make them look like an Eastern European shot putter. Understandable concern (though I have nothing against Eastern European track and field athletes), but somewhat of a mistaken one. Adding muscle - by doing strength training - doesn't mean that you're going to develop arms the size of Hummers or legs the size of redwoods. Why? Muscle requires something else to feed it to really bulk up. That substance? Androgens, which are relatives of testosterone, cause muscle fibers to grow. They're the reason men get bulky when they build muscle and women can lift weights and still remain Jaguar-like sleek.
So if what you're trying to do is just tone, shape, and tighten, you can still lift weights and do resistance training.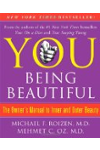 Continue Learning about Strength Training & Exercise