Some joint-friendly forms of stamina training include aqua-jogging, water aerobics, and even training on an elliptical machine. Out of all, the water-based exercise takes the most load off of the joints because of the increased buoyancy or un-weighting effect of the water. When submerged in water up to the neck, your body weight is reduced between 75 and 90%. This is great for people with chronic conditions and other muscle, joint, or bone related problems.
Stamina training is all about strengthening your heart and keeping your arteries young. But stamina training won't help your bones. The problem with lots of some cardiovascular training, like running and stair climbing, is that it pounces on your bones and joints like a lion on raw meat (and usually does little for your muscles, depending on what kind of stamina training you're doing).

To live longer and best protect your joints from the onslaught of impact, the best stamina workouts you can do are swimming, rowing, cycling, and exercising on an elliptical machine. These activities elevate your heart rate, and they work various muscles (with swimming working just about every part of your body), but your joints don't absorb the shock, trauma, and pounding of your body step after step. And that's a major advantage to those people suffering from joint pain and osteoarthritis-they're the best ways to maintain your cardiovascular health so your joints can recover.

With swimming and cycling, you get the benefits of cardiovascular training without the stress. (Walking is also a super form of exercise, but most people don't walk quickly enough to elevate their heart rates high enough to be classified as stamina training.)

The perfect workout program actually includes both weight-bearing and non-weight-bearing stamina activities, because cross-training-that is, choosing different types of stamina exercises on different days-helps you use different muscles. And strength training builds muscles. Those muscles will help support your joints without damaging them.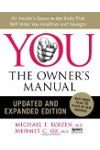 Continue Learning about Strength Training & Exercise