How can I strengthen my low back, arms and legs at the same time?
Try the Quadruped leg kickback/ arm raise. This exercise is great for low back, arms, and legs. You start by getting in the quadruped position, which is being on hands and knees. From there you will draw in your abdomen, (tighten your core). You will then kick out one leg while at the same time raising the opposite arm, keeping the arm and leg parallel with the ground. For example if you lift your right arm you will kick your left leg back. Remember to activate the core; this is very important, as this exercise can be difficult to stabilize. Start off with no weights and try doing 15 repetitions with each leg. Once this has become to simple then adding a light dumbbell or an ankle weight will be the way to go.
Try performing the Superman exercise. You will work your low back, your arms and your legs with this one activity. Lie on your stomach, on the floor, with your arms and legs extended out in front of you. Turn your palms to the floor. Exhale and lift your arms and legs off of the floor, taking care not to crank the head up or to create too much arch in the low back. Looking down at the floor will keep your neck in proper alignment. Alternate lifting your right arm and left leg and then your left arm and right leg as if you are swimming. Keep the alternating arms hovering over the floor. Avoid resting on the floor for the entire set. Keep the abdominals engaged and flutter each arm and leg for 30 seconds and rest. Make sure you are breathing and not holding your breath. Your working muscles need oxygen to work effectively. Repeat three sets of thirty seconds for each set. Once that is no longer challenging increase the length of time to 45 seconds.
Continue Learning about Strength Training & Exercise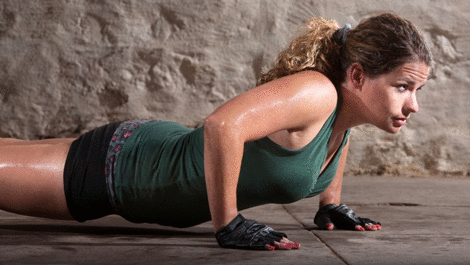 Strength training will increase your metabolic rate, build your muscles and provide you with more strength. Weight machines, free weights and resistance bands can be part of your strength training workout plan. Learn more from our ...
experts about strength training.
More