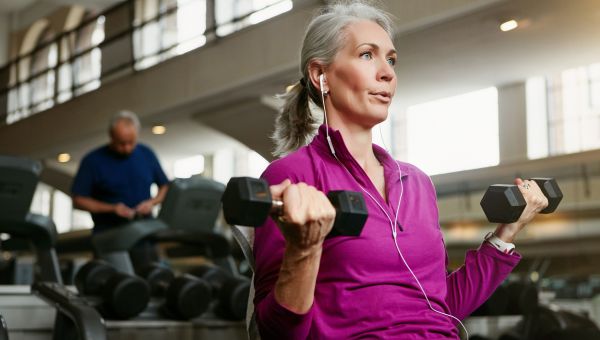 Doing resistance work for at least two days a week is the key to healthy aging and total-body strength.
Researchers involved in a study, published in the American Journal of Epidemiology, looked at data on more than 80,306 adults and confirmed that strength training is as important as aerobic exercise—and can help you lower your RealAge. The University of Sidney researchers found that doing regular muscle-building workouts was associated with a 23 percent reduction in risk of premature death from any cause and a 31 percent reduction in cancer-related deaths.
Doing push-ups and other exercises that use your own bodyweight as resistance or using stretch bands or weights are equally effective.
The researchers also found that an exercise routine of aerobics and strength building delivered the best boost to your health. In the study, that meant 150 minutes of aerobic exercise and two days of strength training every week.
Our favorite aerobic/strength-building routine involves:
Walking 10,000 steps a day or the equivalent. (You can track your steps easily with Sharecare, a free mobile application for iOS and Android).
Strength training seven to 10 minutes every other day. Doing resistance work helps build strong abs, glutes, quads, hamstrings, back muscles and more.
Building upper-body strength. Dedicate eight to 10 minutes of chest, shoulder and arm work every other day.
Powering up with plyometrics. Do 20 box jumps—to build hip and spine bones—every day.
Medically reviewed in January 2020.