If you've made a commitment to others to meet at a certain time and place for a walk or jog together, it becomes much more difficult to sit at home. And the prospect of coffee or lunch with friends after exercise provides an additional powerful inducement to keep at it. Most communities of any size have jogging or walking clubs, health clubs, and aerobics classes that provide many opportunities to meet others of like mind. Forming friendships around exercise provides not only additional motivation, but also the benefits of social connectedness.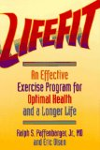 Exercising with others is a great motivator and something that many individuals, especially those who are sedentary, should do! Having a friend or workout buddy will assist in completing your exercise. The best benefit, this individual will push you in many ways. Below are a list of benefits and the list can surely go on!
Your workout partner will push you to exercise on a day when you may not have the motivation
A partner will help you workout for 45 minutes as compared to 30
You may try new forms of exercise such as group exercises classes, especially if you have someone to go with
Instead of only completing 8 repetitions, you may be able to complete 10 with that extra push!
As you can see, exercising with others has benefit and the biggest benefit will be you staying active and living a healthy lifestyle!
Continue Learning about Staying Motivated For Fitness & Exercise