Once rectal cancer has reached stage 4, it is difficult to cure the disease. However, treatment can extend life and relieve pain. A combination of surgery, chemotherapy, and radiation is usually used. With stage 4 rectal cancer, you may want to make end of life plans with your doctor and loved ones.
Continue Learning about Stage 4 Rectal Cancer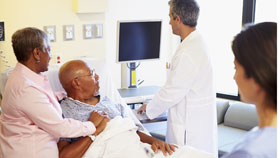 In stage 4, rectal (also called colorectal) cancer has spread through the rectal wall to nearby lymph nodes and to other organs, often the liver or lungs. Both diarrhea and constipation that do not go away can signal rectal cancer...
. Your doctor will likely recommend a colectomy to remove the part of the rectum that contains the cancer and will likely recommend a combination of chemotherapy and radiation for cancer that has spread to other parts of the body.
More