Why might the bottom of my big toe hurt?
The bottom of your big toe may be sore for a few reasons. The two possibilities are sesamoiditis and turf toe. Sesamoiditis is an irritation of tiny bones located in the tendons associated with your big toe. Because these bones are within the tendon, they are involved every time you push off of that big toe. Over time they may become irritated and the tissues around them may become inflamed. Turf toe is caused by hyper-extending your big toe and therefore spraining the ligaments around the joint of the big toe. These two possible injuries can be distinguished by their onset. Sesamoiditis is more of a gradual onset of pain while turf toe is the result of a specific event or repeated motion of the big toe.
(This answer provided for NATA by the Eastern University Athletic Training Education Program.)
Continue Learning about Sprains and Strains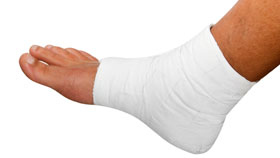 A sprain occurs when there is an injury to the ligament supporting a joint. The most common sprains are ankles, knees, wrists and thumbs. Symptoms of sprains are swelling, bruising, pain and sometimes loss of movement to the affec...
ted joint. Learn more about sprains and strains from our experts.
More