After the first three days of ice application, start applying heat and ice alternately on the injured knee. Use an ice pack or ice water bath for 10 minutes; then use hot water immersion, a moist hot towel, or a heating pad for 10 minutes; and then use the ice again for 10 minutes. Do this two to three times per day.

The following exercises will help stretch and strengthen your knee to help return it to normal function and avoid further injury. You can begin the exercises as soon as you are able to bear weight on the injured knee.

1. Sit in a chair or on the edge of a table.
Put your hand on your thigh immediately above your knee joint to feel the quadriceps muscle.
Tighten the quadriceps muscle. Hold for eight seconds and then relax. Repeat three times.
Do this isometric exercise once every one to two hours.
2. Stand on the floor and hold on to the back of a chair for support.
Bend your knee back and grasp your ankle with your hand.
Gently extend your hip until you feel a stretch in the quadriceps muscle.
Hold for 10 seconds. Relax. Repeat 10 times.
Continue Learning about Sprains and Strains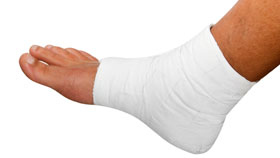 A sprain occurs when there is an injury to the ligament supporting a joint. The most common sprains are ankles, knees, wrists and thumbs. Symptoms of sprains are swelling, bruising, pain and sometimes loss of movement to the affec...
ted joint. Learn more about sprains and strains from our experts.
More