How can I prevent injuries and muscle strain while I'm texting?
For texting, maintain proper upright posture and bring your texting device up to your eyes, rather than hunching over it. This video from the American Chiropractic Association explains:


How can I prevent muscle strain while texting?
Continue Learning about Sprains and Strains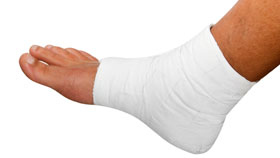 A sprain occurs when there is an injury to the ligament supporting a joint. The most common sprains are ankles, knees, wrists and thumbs. Symptoms of sprains are swelling, bruising, pain and sometimes loss of movement to the affec...
ted joint. Learn more about sprains and strains from our experts.
More