How do I strengthen my wrist after a sprain?
Initially, you will need to get your flexibility back in your wrist. To do this, stretch it in all four directions as much as you can throughout the day. You can compare your injured wrist to your healthy wrist in order to see improvement. Once both wrists have equal flexibility, you should move on to strengthening the wrist. This can be done by lifting objects of light to moderate weight and moving your wrist through the entire range of motion while holding these objects. You can also hold a weight in your hand and move your wrist from palm up to palm down. These objects can be simple household items, such as a hammer, a book, or a soup can.

Additionally it is always a good idea to see your doctor for further evaluation and for possible referral to a certified athletic trainer who can outline a progression of strengthening exercises for you.
(This answer provided for NATA by the Eastern University Athletic Training Education Program.)
Continue Learning about Sprains and Strains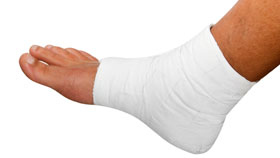 A sprain occurs when there is an injury to the ligament supporting a joint. The most common sprains are ankles, knees, wrists and thumbs. Symptoms of sprains are swelling, bruising, pain and sometimes loss of movement to the affec...
ted joint. Learn more about sprains and strains from our experts.
More