A sprain can have various effects on the body depending on the severity and location of the sprained joint. A sprain happens when a ligament is stretched too far or torn. Usually, this is caused when a joint is stressed and forced into an unnatural, painful position. The sprain may cause the joint to become painful, swollen, and bruised.
Continue Learning about Sprains and Strains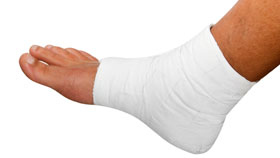 A sprain occurs when there is an injury to the ligament supporting a joint. The most common sprains are ankles, knees, wrists and thumbs. Symptoms of sprains are swelling, bruising, pain and sometimes loss of movement to the affec...
ted joint. Learn more about sprains and strains from our experts.
More